Pros and Cons of Becoming a Licensed Vocational Nurse
A career in nursing not only opens up your job options as the shortage of nurses continues, but it also gives you a way to help others. There are many different educational paths to nursing, but sometimes it is best to get your foot in the door. You can start working and then continue your studies if you choose and advance further.
One of the fastest paths is to become a licensed vocational nurse (LVN). What exactly is an LVN, though?
What is an LVN?
An LVN is an entry-level nursing position requiring less school time to get your license. LVNs are nurses similar to LPNs or licensed practical nurses. They can work in any medical setting, from a physician's practice to a hospital. You'll find LVNs in long-term nursing facilities, memory care centers, clinics, and rehabilitation programs. It is a well-rounded career choice for nurses.
What Does It Take to Become an LVN?
First, you must graduate from an accredited nursing program like the one the Smith Chason School of Nursing offers. Once you get your diploma, you will sit for the National Council of State Boards of Nursing's NCLEX-PN exam. This will allow you to get your nursing license and work as a nurse.
What Are the Pros and Cons of Becoming an LVN?
Of course, no job is perfect. There is a lot to consider when you want to become an LVN.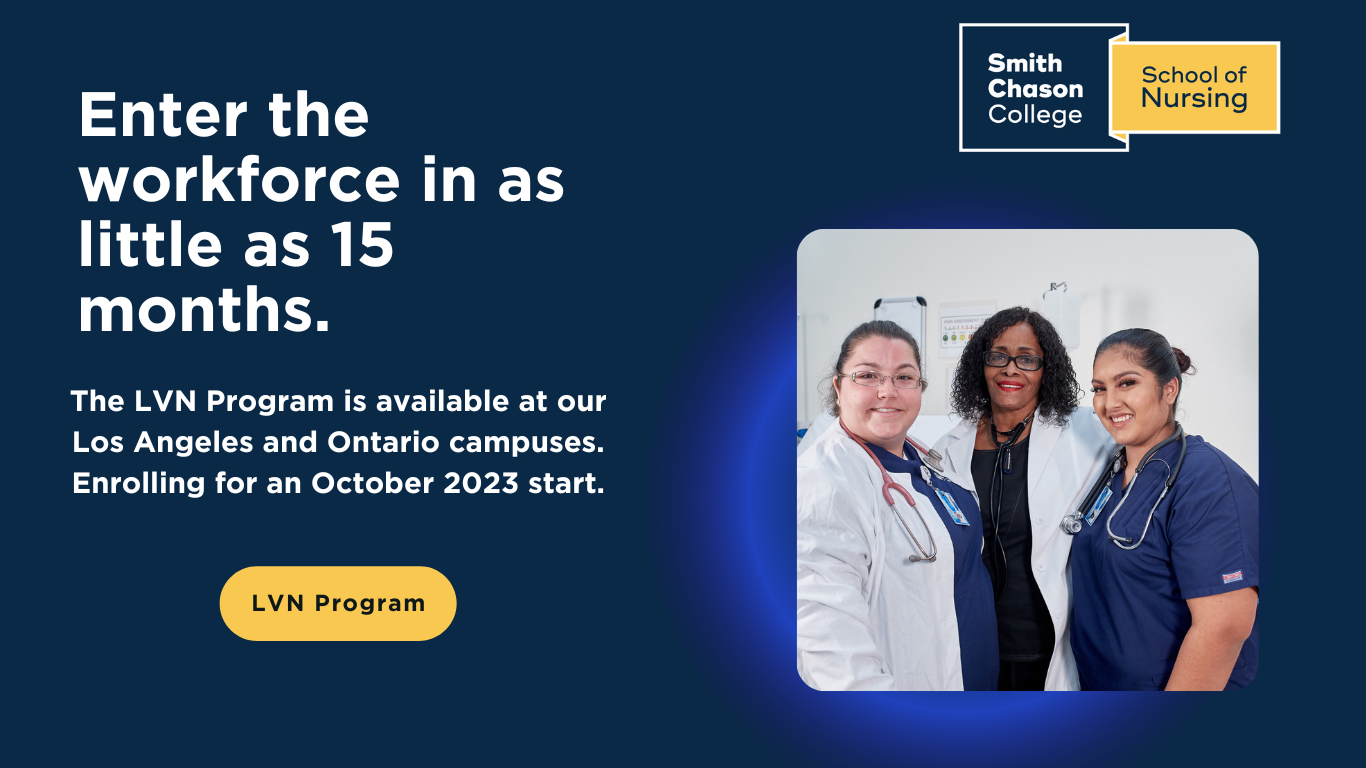 PRO: You Are Working as a Nurse Sooner
It will take you anywhere from 12 to 20 months to graduate as an LVN and be able to get your nursing license. That is a big plus because other nursing programs can take twice that long to complete.
CON: You Have Fewer Responsibilities
That might seem like a pro to some who want a basic nursing job. If you are more ambitious, though, you can expect to have to go back to school at some point. LVN's perform primary nursing care, such as taking vital signs, patient histories, and managing wound care. There are some tasks that would not fall into the purview of an LVN, though, such as starting IVs.
PRO: You Can Further Your Education
One of the best things about becoming an LVN is you have the opportunity to work as a nurse and gain valuable experience while you continue your studies. In addition, your credits can transfer into a bridge program to allow you to become an RN or even get a four-year degree.
PRO: You Can Get Certifications
If going back to school to become an RN or BSN sounds like too much, but you would like to specialize, you can further your education with a certificate program. You can take a course to become certified to start IV lines, for example.
Other potential certifications include:
Long-term care – Working in memory care facilities or rehabilitation centers
Gerontology – Working with older people
Pharmacology – Medication distribution
Hospice and palliative care – End-of-life nursing care
Adding certifications to your existing diploma is another way to boost your earning potential.
PRO: Good Job Outlook
Nurses of all kinds are in high demand right now. The U.S. Bureau of Labor Statistics (BLS) estimates nursing positions will continue to grow faster than average. They state there will be an additional 276,800 jobs by 2030.
In California, the number of Registered Nurses is expected to expand much faster than average growth rate for all occupations. According to the Employment Development Department of California, jobs for Registered Nurses are expected to increase by 16.7 percent, or 53,400 jobs between 2018 and 2028.
In addition, the need to lower the cost of healthcare is making LVNs an even more sought-after option. RNs and BSNs go to school longer, so they are being relegated to administrative and managerial positions while LVNs and LPNs are working more with patients.
Being a licensed vocational nurse also opens up your options. You can return to school online and get a two or four-year nursing degree if you want to go into management – all while you continue working and gaining nursing experience as an LVN.
PRO: You Are a Nurse
Nursing is a calling that allows you to make a difference in people's lives. It could be a starting point for you or give you everything you want in a job. It will provide you with nursing experience and a way to help others.
Being an LVN can also give you a chance to see the different types of nursing care out there. That way, if you decide to continue your nursing education, you can set goals for yourself, like choosing a specialization. In some cases, an employer may even agree to help pay your tuition for a bridge program so you can advance in your current work environment.
Are you ready to start your path to an exciting and fulfilling career as a licensed vocational nurse? Then apply online today to the Smith Chason School of Nursing program or fill out our contact form to get more information.