It's no secret that the demand for healthcare services is growing fast, and the field is expanding right along with it. Throughout the medical system, nurses provide extremely vital points of care, supporting both the patient and the team of health professionals they work with. Nurses bridge the gap between doctors and patients and offer compassion and guidance through situations that can often be scary or stressful. At Smith Chason School of Nursing, you could become part of this important career field with our Vocational Nursing diploma program.
Available at our Los Angeles and Ontario California campuses. Enrolling for a October 2023 start.
WHAT IS VOCATIONAL NURSING?
Licensed vocational nurses fill an important role in a healthcare team, with responsibilities that sit between those of a nursing assistant and those of a registered nurse. As a state-licensed position, they can often perform more advanced tasks than CNAs, and work under the supervision of doctors, physicians, and nurse practitioners or physicians' assistants. Medical assistants, EMS techs, and nursing assistants who are wanting to further their careers in medicine often look into becoming LVNs. And current LVNs are often well-positioned to work and gain experience while also pursuing a nursing degree.
WHAT DOES AN LVN DO?
The day-to-day responsibilities of vocational nurses can depend a lot on where they work and what state licensing rules allow them to do. It almost always includes a lot of direct patient care, as well as clinical and administrative tasks, and may involve things like:
Taking a patient's heart rate, blood pressure, and other vitals, and monitoring their health
Changing bandages and linens, inserting catheters, and administering other elements of basic care
Helping patients bathe, dress, use the restroom, eat, and any additional tasks that contribute to their hygiene and comfort
Drawing blood or collecting samples for tests and procedures
Recording health stats, ensuring patient records are regularly updated, and reporting any concerns
Speaking with patients and family members about their condition and care
In some states, LVNs can administer medication and start IV drips, but those tasks are generally governed by state regulation agencies. Experienced LVNs may be charged with supervising CNAs on duty as well.
HOW DO I BECOME AN LVN?
All vocational nurses begin their nursing education by enrolling in an accredited program like the Vocational Nursing diploma offered at Smith Chason, which has been approved by the Board of Vocational Nursing and Psychiatric Technicians (BVNPT). We combine online theory and lecture courses with hands-on learning in both labs and off-site clinics to help you build the knowledge and skills you'll need in the workforce.
Vocational nurses should also:
Be patient — Working with people who are sick, injured, and oftentimes stressed or scared can be challenging, so it's important for LVNs to be able to maintain patience and composure.
Have physical stamina — LVNs are often on their feet a lot and may be required to lift or support patients bigger than them or maintain body positions that are not ideal for comfort in order to administer care.
Be detail-oriented — Because you'll be monitoring the health and status of your patients, you'll need a keen eye for details so you can ensure they're getting the care they need.
Be compassionate — An empathetic and caring disposition are key in those looking to enter the nursing profession.
Have strong interpersonal skills — As an LVN, you'll be working with a whole team of other medical professionals, so being able to interact and communicate with them well is key.
WHAT CERTIFICATIONS DO LVNS NEED?
All vocational nurses are required to be licensed by the National Council of State Boards of Nursing by successfully passing the NCLEX-PN exam. We include NCLEX-PN preparation at every level of our Vocational Nursing program at Smith Chason through a robust ATI program.
Smith Chason's current California NCLEX Pass Rates for our Los Angeles Vocational Nursing programs is 76%!*
Smith Chason's current California NCLEX Pass Rate for our Ontario Vocational Nursing program is 64%!*
*Current NCLEX-PN Quarter Rates for 2022 for our Los Angeles and Ontario VN programs. Please see www.bvnpt.ca.gov for per-campus rates. Find our 2022 Pass Rates on our Consumer Info Page.
LVNs can often add specialized certifications as they progress through their careers for things like:
IV Therapy
Long-term care
Gerontology
Pharmacology
Hospice and palliative care
WHAT WILL I LEARN IN A VOCATIONAL NURSING PROGRAM?
Smith Chason knows the value of experience, which is why we hire expert, professional nurses as our instructors and incorporate their knowledge into our curricula. We start by building your confidence in our high-fidelity nursing skills and simulation labs and then take it to the next step with off-site hospital and clinic externships. With our LVN diploma program, you'll explore topics like:
The fundamentals of nursing
The growth and development of the human body and how it factors into healthcare
How to identify, treat and prevent communicable diseases in patients
Further exploration of various aspects of nursing such as:

Medical/surgical nursing
Pharmacology
Maternity and pediatric nursing
Psychology, gerontology, and rehabilitation
Leadership and management skills
For over 20 years, the founders of Smith Chason School of Nursing have made it our mission to produce graduates who display both academic excellence and the highest levels of integrity. We are a true partner in your journey to becoming part of the nursing profession.
HYBRID PROGRAMS
Our California vocational nursing diploma program is made up of five course levels, each of which combines lecture hours, skill hours, and clinical hours on topics like:
Anatomy, physiology and medical terminology
Nursing fundamentals and basics of patient care
Patient assessment and communication
Healthcare ethics and professionalism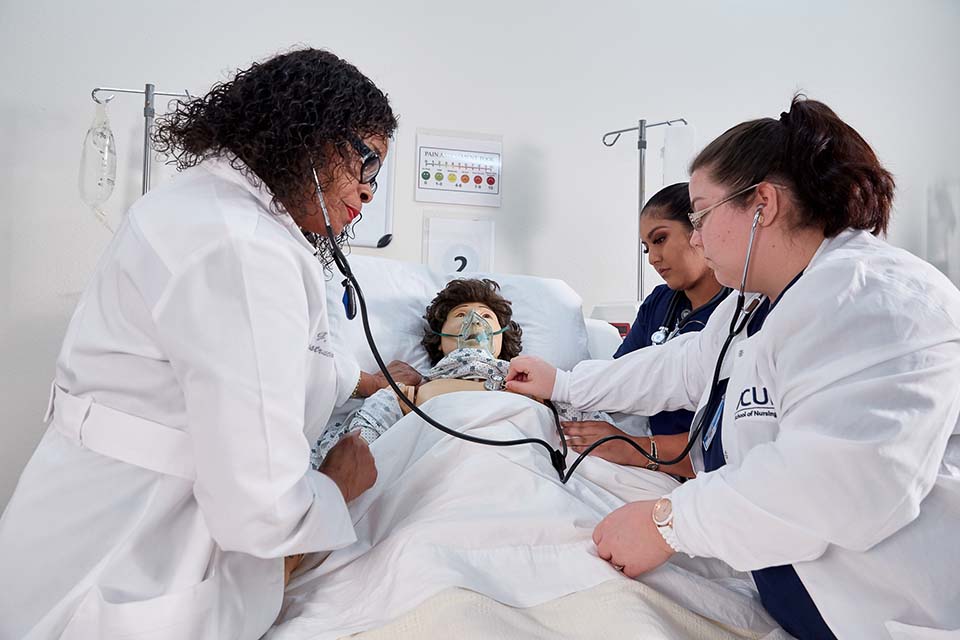 WHAT'S THE CAREER OUTLOOK FOR LVNS?
With more and more people needing healthcare in the United States, whether that's due to aging, heart disease, or other causes — healthcare organizations are in real need of skilled nursing staff. Vocational nurses are in strong demand, which is why the Bureau of Labor Statistics expects jobs in this field to grow 9%, with around 60,000 job openings each year.
*EDD/LMID Projections of Employment by Occupation
WHERE DO LVNS WORK?
Vocational nurse work wherever medical services and patient care are provided. The variety of opportunities and working environments is one of the key benefits of stepping into this role. According to the BLS, vocational nurses worked in:
Nursing and residential care facilities
Physicians' offices
State, local, and private hospitals
Local and urgent care clinics
Home health and hospice settings
And more
HOW LONG WILL IT TAKE TO GET VOCATIONAL NURSING DIPLOMA?
The Vocational Nursing diploma program from Smith Chason can get you ready to enter your new career in just 15 months.
WHAT ELSE SHOULD I KNOW ABOUT SMITH CHASON'S VOCATIONAL NURSING DIPLOMA PROGRAM?
To ensure that your education journey isn't interrupted, Smith Chason utilizes a hybrid learning model. All lecture classes will be held online, skills and simulation labs will be on campus in person, and clinicals will be in-person at your assigned clinical site.
Founded by nurses for nurses, Smith Chason has built nursing education programs on the foundation of our instructors' skills, passion, and professional experience. We've been accredited by the Accrediting Commission of Career Schools and College as a private post-secondary vocational school since 2001 and our Vocational Nursing programs at our Los Angeles and Ontario campuses are approved by the Board of Vocational Nursing and Psychiatric Technicians (BVNPT).Find our full list of approvals and accreditations on our Admissions page.
Smith Chason understands that you might need a helping hand in your nursing ambitions. For that reason, financial aid and scholarships are available*. Visit our Financial Aid page for more information about receiving federal assistance and view our full booklet of scholarships.
*To those who qualify.
TAKE THE NEXT STEP
Are you ready to begin your nursing education? Find the information you need to apply to the Smith Chason School of Nursing on our Admissions Page.