Our Vocational Nursing Program
Smith Chason's combined California NCLEX Pass Rate is 94.19%* at our Los Angeles Campus and Ontario Campus!
Our Vocational Nursing program will prepare you to start your career as an entry-level healthcare provider. The 15-month program combines theory, technical skills, pharmacology, NCLEX preparation, and off-site clinical nursing experience, to provide you with the necessary skills to start your career as a Vocational Nurse. As the demand for nurses continues to grow, our goal is to ensure that each student can meet the industry's demands and make a difference in the community.
The Smith Chason Vocational Nursing program is only available at our Los Angeles and Ontario, California Campuses.
WHY SMITH CHASON?
The program has been approved by the Board of Vocational Nursing and Psychiatric Technicians (BVNPT).
Preparation for California's NCLEX-PN exam. (Our current combined California NCLEX Pass Rate is 94.19%* at our Los Angeles Campus and Ontario Campus!)
Learning under experienced and well-connected Nursing Professionals in the field.
Build confidence in on-campus labs in our high-fidelity nursing skills and simulation lab.
Hands-on experience in our off-site hospitals/clinical sites.
Scholarships and Financial Aid Available**
*Current NCLEX-PN Quarter Rates up through Qtr4 2020. Please see www.bvnpt.ca.gov for per campus rates
**To those who qualify
WHAT YOU'LL LEARN
The LVN Diploma Program provides:
Nursing fundamentals.
Education in anatomy, physiology, human growth, and development of the human body.
Ability to identify, treat and prevent communicable diseases in patients.
Courses on the various aspects of nursing such as:

Medical/surgical nursing
Pharmacology
Maternity and pediatric nursing
Psychology, gerontology, and rehabilitation.
Leadership and management skills.
HYBRID PROGRAMS
To ensure that your education journey isn't interrupted, Smith Chason utilizes a hybrid learning model. All lecture classes will be held online, skills and simulation labs will be on campus in person, and clinicals will be in-person at your assigned clinical site.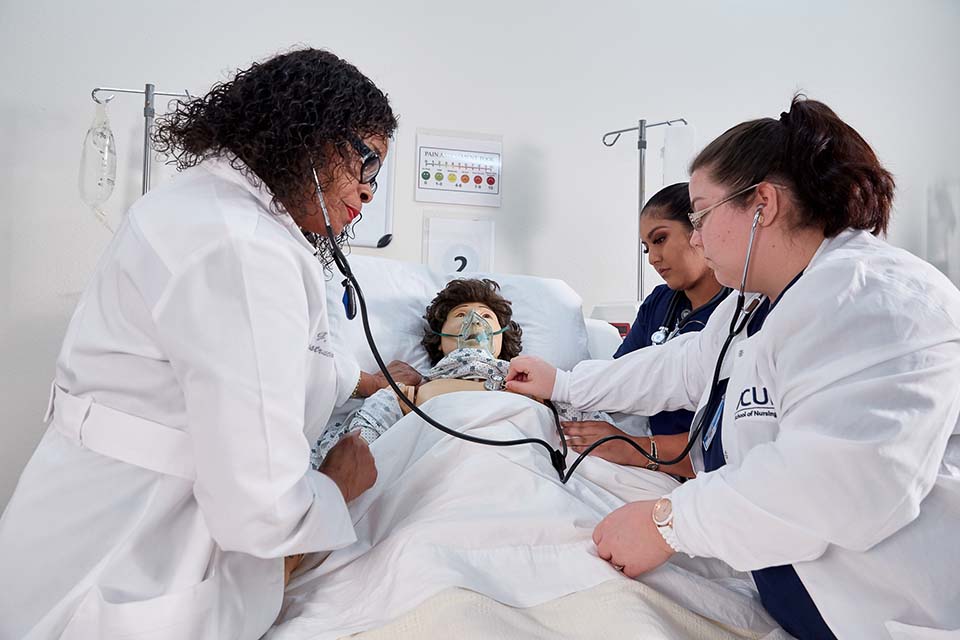 PREPARE FOR YOUR CAREER
Our Vocational Nursing diploma program will prepare you to take your NCLEX exam, which is required to enter the workforce as an LVN. Information regarding the NCLEX passage rates for Smith Chason School of Nursing graduates can be found here.
Smith Chason's Vocational Nursing program only leads to licensure in the state of California
TAKE THE NEXT STEP
If you enjoy the hands-on work experience, are passionate about the healthcare field, and have the desire to make a difference in the lives of others then the Licensed Vocational Nursing program is for you! For more information visit the Admissions Page or click Request Info to schedule a virtual appointment with our admissions team today!