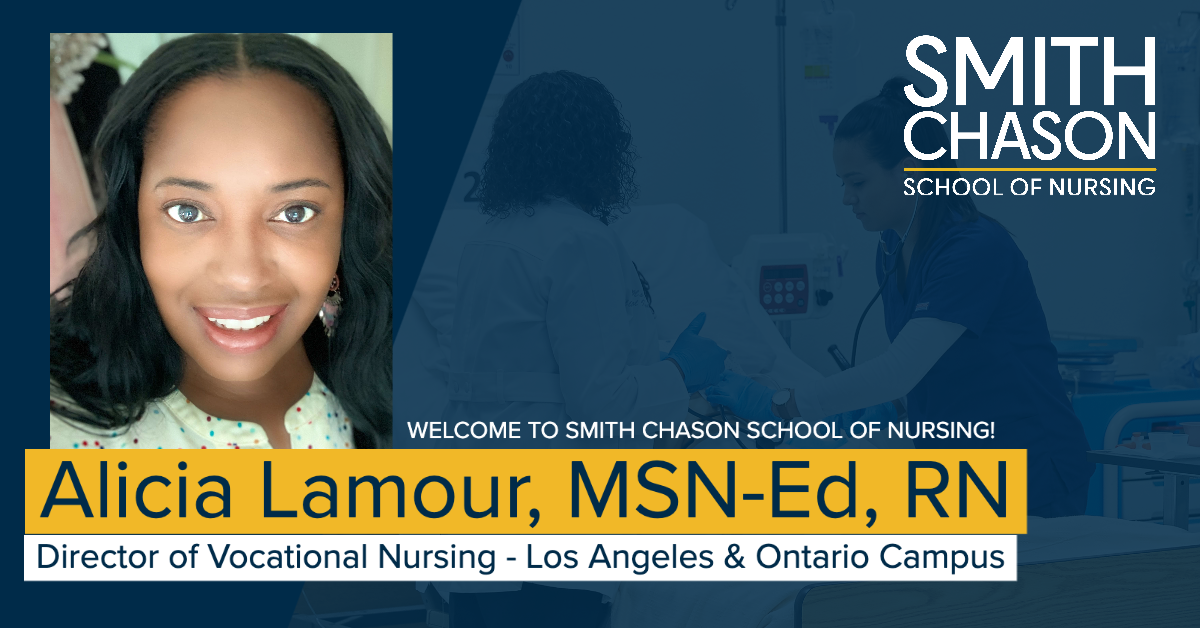 New Director of Vocational Nursing, Alicia Lamour
"I enjoy working with students and helping them succeed in their goal of becoming a nurse. I am very excited to be a part of a great organization with the same goals." Alicia Lamour, previous Assistant Director of Nursing for Smith Chason's Associate Degree in Nursing (ADN) program, has just been promoted to Director of Nursing of the Vocational Nursing programs in Los Angeles and Ontario, California.
About Alicia Lamour, MSN-Ed, RN
Alicia Lamour, originally from New Jersey, moved to California 13 years ago to pursue a career as a travel nurse. She received her BSN from Rutgers University and an MSN from Phoenix University. Lamour has a wide range of nursing experience including Med-Surg, Telemetry, Heart Failure, Mental Health, and Performance Improvement. After being a nurse for 18 years, Lamour found a passion for Nursing Education. She will be a great addition to the Vocational Nursing program.
Our Vocational Nursing Program
Our 15-month Vocational Nursing program combines theory, technical skills, pharmacology, NCLEX preparation and off-site clinical nursing experience to provide you with the skills to start an entry-level healthcare provider. The program is available at our Los Angeles and Ontario, California campuses and enrolls on a quarterly basis. Our current combined California NCLEX pass rate is 94.19% at our Los Angeles and Ontario campus*. As the demand for nurses continues to grow, our goal is to ensure that each student can meet the industry's demands and make a difference in the community.
Congratulations Alicia! You have already had such a positive impact on our students and can't wait to see where your leadership will take us at Smith Chason School of Nursing.
* Current NCLEX-PN Quarter Rates up through Qtr4 2020. Please see www.bvnpt.ca.gov for per campus rates
Smith Chason Careers
Are you a nursing professional interested in joining a team dedicated to preparing the future nurses of our generation? Smith Chason has openings for nursing leaders and instructors at our campuses in Los Angeles and Ontario, California, and in Phoenix, Arizona. Learn more about our open positions here: Smith Chason School of Nursing Careers