You can step into a rewarding and honorable career with the Associate of Science Degree in Nursing program (ADN) from Smith Chason School of Nursing. Our learner-focused education prepares you to become a professional nurse leader in just 24 months with an evidence-based approach that promotes practical and critical reasoning skills.
The ADN program combines theory with hands-on nursing skills in our highly developed simulation and skills labs, and off-site clinical experience, to provide you with complete training in the skills and competencies you will need as a registered nurse.
*To those who qualify. ADN program pending approval by the California State Approving Agency for Veterans Education (CSAAVE) and pending Student and Exchange Visitor Program (SEVP) approval.
Currently only offered at our Los Angeles Campus.

Approved by the California BRN

Complete ATI Partner

Developed Simulation Lab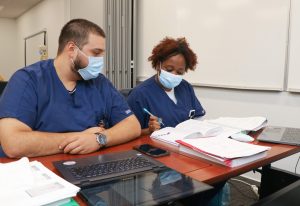 Student Support
We take a holistic approach to healthcare and your education. Considering not just physical needs, but the mental, social, and community factors you will need to identify and overcome during school and your career. Our faculty members promote values such as, altruism, human dignity, and mindfulness to promote personal and professional growth. Together we cultivate the foundation of care you will continue to build upon during your nursing profession.
Find our full ADN Course Curriculum below: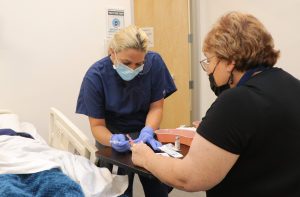 Career Opportunities
Registered nurses are a fast-growing, in-demand career. The State of California Employment Development Department is estimating RN jobs in the state will increase 16.7% from 2018-2028 and The Bureau of Labor Statistics is predicting that RN jobs in the US will increase 7% from 2019-2029, faster than the average growth. With a number of current nurses looking to retire and the demand for healthcare services only increasing as the U.S. population ages, medical organizations and facilities will be seeking out quality nursing candidates to fill positions across the country.
Source: EDD/LMID Projections of Employment by Occupation
As an RN, you can specialize within the following departments and beyond:
Medical/Surgical
Critical-Care
Cardiology
Geriatrics
Obstetrics & Gynecological (OB-GYN)
Neonatal Intensive Care Unit
Oncology
Pediatrics
Surgery and transplantation
Emergency Room
Nursing Education