Smith Chason's Practical Nursing Program has been built for the next generation of Arizona Practical Nurses.
Our 12-month, 3-day a week, Practical Nursing diploma program will prepare you to advance your nursing career and meet the growing demand for nurses in the field. The program combines theory, technical skill, biology, pharmacology, simulation labs, NCLEX preparation, and off-site clinical experiences which will provide you with the skills and competencies you'll need to start your career as a Practical Nurse.
The Practical Nursing program is a great opportunity for those who have healthcare experience as a CNA/ LNA, MA, EMS, or more and are looking to further their healthcare journey in the nursing field.
Currently offered at our Phoenix Campus.
WHY Smith Chason?
Our Practical Nursing program has been approved by the Arizona Board of Nursing (AZBN)
Flexible schedules to fit any lifestyle. Classes and labs are held 3 days a week to help you maintain the work/life balance you need while you pursue a career in nursing.
Gain knowledge from experienced nursing professionals.
Our Practical Nursing program prepares you to sit for the NCLEX exam, which is required to enter the workforce as an LPN.
Receive hands-on experience in simulation lab and off-site clinical sites while completing the program.
Scholarships and Financial Aid Available*
*To those who qualify. PN program pending approval by the Arizona Department of Veterans Services State Approving Agency (SAA) and Student and Exchange Visitor Program (SEVP).
See our Admissions Page for the requirements to enroll in Smith Chason's Practical Nursing Program.
WHAT YOU'LL LEARN
Students in our LPN diploma program will learn the following:
Fundamentals of nursing, including anatomy and physiology of the human body
Medical and surgical nursing and pharmacology
Identification, treatment, and prevention of communicable diseases in patients
Human growth and development
Maternity and pediatric nursing
Mental Health, gerontology, and rehabilitation
Professional roles and leadership
Transition to practice
PREPARE FOR YOUR CAREER
The demand for nurses in the healthcare industry continues to grow. Smith Chason wants to help you take the first step into meeting that demand.  Our Licensed Practical Nursing diploma program will prepare you to take your NCLEX exam, which is required to enter the workforce as an LPN.
Arizona is part of the Nursing Licensure Compact (NLC) which allows LPNs to have one license to participate in multiple states. The current list of Participating NLC Member States: https://www.ncsbn.org/nurse-licensure-compact.htm
HYBRID PROGRAMS
To ensure that your education journey isn't interrupted, Smith Chason utilizes a hybrid learning model. All lecture classes will be held online, skills and simulation labs will be on campus in person, and clinicals will be in-person at your assigned clinical site.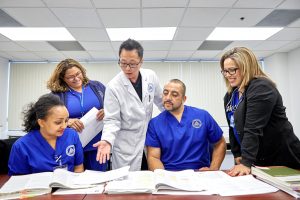 TAKE THE NEXT STEP
As a current healthcare professional, you already have a passion for the healthcare field, an interest in working hands-on with people, and a drive to make a difference in people's lives. These qualities provide a solid foundation for a Licensed Practical Nurse.
Find the information you need to apply to the Smith Chason School of Nursing on our Admissions Page or connect with our admissions team by clicking the button below and they'll walk you through the process.